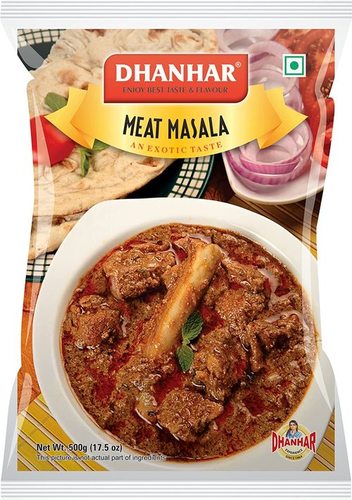 Meat Masala Manufacturer Gujarat India
Product Code : D-01
Product Description
Meat Masala Manufacturer And Exporters India

We are offering Meat masala.

Ingredients:
(In Powder Form)
Water Melon Seeds, Star Aniseeds, Nutmeg, Cloves, Coriander, Cardamom Amomum, Cimin Seeds, Cinnamon, Chillies, Cinnamon Leaves, Turmeric, Cotton Seeds Oil & Iodised Salt 2% (Not Curry Powder)
Packaging : 50gm, 100gm, 200gm, 500gm, 1 kg. And Bulk Packing

Live Chat With Skype:- dhanhar
Plz Click this link and download our products Broucher
Meat Masala Manufacturer And Exporters India

We are offering Meat masala.

Ingredients:
(In Powder Form)
Water Melon Seeds, Star Aniseeds, Nutmeg, Cloves, Coriander, Cardamom Amomum, Cimin Seeds, Cinnamon, Chillies, Cinnamon Leaves, Turmeric, Cotton Seeds Oil & Iodised Salt 2% (Not Curry Powder)
Packaging : 50gm, 100gm, 200gm, 500gm, 1 kg. And Bulk Packing

Live Chat With Skype:- dhanhar
Plz Click this link and download our products Broucher
Contact Us
Dhanhar House, Bhajiwali Pole, Bhagal, Surat, Gujarat, 395003, India
Phone :91-261-2424120/2428241